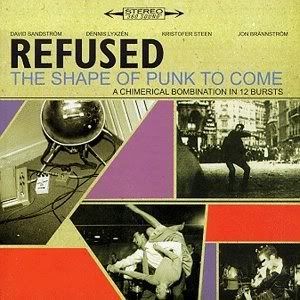 Refused - a strictly vegan straight edge band. And I'm writing this while eating a ham sandwich, hungover as a warthog. Oh the irony.

But anyway. This was Refused's third and last album, and although it was the first of theirs I bought I was well aware of them and had seen them live at the Oslagen I Roslagen festival in Norrtälje in 1997. This was an annual event against violence, racism ect where a bunch of local bands would play, and one or two bigger artists would headline. Refused shared the top billing with Jumper. A bit anticlimactic to say the least.

I actually bought this on the same day I bought Radiohead's OK Computer, another extraordinary, progressive landmark third record. I don't know what that means, but I like it.

Not sure what I can say about this album that hasn't already been said. The band was becoming increasingly detached from their audience, the concept of what punk rock should sound like, and the scene as a whole. A scene they themselves created.

Although the band maintained most of their trademark hardcore fury, many new elements were added to the mix. Charles Mingus and electronic outfits I've never heard of before or since were cited as references, strange samples, jazz beats and soundscapes litter large parts of the album, acoustic instruments were used, as well as violins and cellos, giving the stunning Tannhäuser/Derivè a strong folk music feel.

Despite the increasing detachment the band still seemed worried about the response this new direction would get, so they had a friend explain the whole thing in the liner notes. Liner notes which mention Celtic Frost's glam rock cash-in attempt Cold Lake (1988) as an example of a band going in a direction their fans were unhappy with. If Refused had made an album that sounded like Green Day, then perhaps this would have been a valid parallell. If anything, Into The Pandemonium (1987) would have been a better example of what Refused were doing here.
In terms of ideology this was by far Refused's most focused album, and it can almost be seen as a concept album, a well-structured anarchist manifesto in musical form. Fashion and image wise the band had moved away from their early days of beanies and enormous pants, and adopted a look closer to that of one of their biggest inspirations, Nation Of Ulysses. Luckily the band didn't many musical ques from N.O.U., possibly the worst band I have ever heard.
New Noise became the closest Refused ever came to a hit song and got their name out to a biggest audience, no doubt aided by the great video by Joakim Åhlund (who normally plays with Teddybears and Caesars). But things could have been very different. According an interview with the band on ZTV in 1998 they originally wanted Liberation Frequency to be to video track from the album but Åhlund wouldn't have it. He thought the song was ridiculous and refused (!) to make a video for it, and instead suggested New Noise.

The band split up on the American tour following the release of the album, and frontman Dennis Lyxzén quickly resurfaced with his new band, garage rock outfit The (International) Noise Conspiracy. Drummer David Sandström became a solo artist with five albums under his belt. Guitarist Kristofer Steen became a film maker and made the documentary Refused Are Fucking Dead in 2006.

Guitarist Jon Brännström recently produced Vital Signs, the second album by TEXT. TEXT's selftitled debut album was released in 2000 and featured all members of Refused apart from Lyxzén. If I understand the story correctly, parts of the material on this album was meant for Refused fourth album. After the band split up, the drummer and the guitarists finished it with some other collaborators and released under a different name.

But enough about TEXT, I'll blog about them some other time. Until then, enjoy:

(mp3) Refused - The deadly rhythm
(mp3) Refused - Tannhäuser/Derivè (highly recommended!)
(mp3) Refused - The apollo programme was a hoax

Buy @ Amazon.com.

Tannhäuser/Derivè
live (David Sandström has anger management problems):