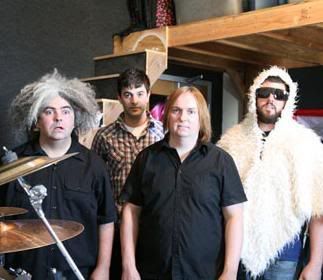 The Melvins + Big Business @ Oyafestivalen August 11th 2007.
The best band on the planet joining forces with the second best band on the planet. Nothing can stop them now, they're more indestructable than Robocop. Plus, Jared Warren is wearing a saucy kimono. What a love hound. If he keeps this up, he'll reach Hank Von Helvete levels of sexy in no time.

Nevermind the lobotomized audience. They're Norwegians, they're not used to seeing such mastery of rock.

1. Lovely Butterflies



2. Lizzy



3. Civilized Worm



4. Oven



5. Set Me Straight/Deserted Cities Oh The Heart



6. Sky Pup



7. Let It All Be



8. Night Goat



9. Blood Witch



10. A History Of Drunks



11. Rat Faced Granny



12. The Hawk/You've Never Been Right



13. A History Of Bad Men




(mp3) The Melvins - Rat Faced Granny/The Hawk/You've Never Been Right
Live at Islington Academy, London, England May 2nd 2007.
Getcha pull @
Amazon.com
.