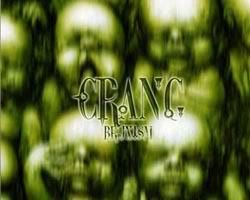 It feels like me posting stuff about bands I know nothing about is happening more frequently.

But as the three of you who paid attention to the the Jandek post on my other blog will know, I'm never very keen on seeking out information about... well, about anything, truth be told. This is especially true about music. Some scramble to find all the info available the second they discovered a new band. They need to know everything, everything, everything.

Well, not me. For me, liking the music is more than enough. In fact, learning tons of shit about the people playing the music can somehow ruin the experience of it, and most certainly shattered whatever images I have in my head of these people. And the reality can never top the wonderfully awesome shit going on in my head at any time. Yes, my brain is that incredible. You may begin your envy of me now.

You could even say I actively avoid finding out anything at all. Which brings us to Crang, a band I know nothing about. I think they are (were?) a quartet from Gothenburg, Sweden, but I couldn't be sure. I have no idea if they recorded anything before this, or after.

The first time I ever heard of them (the only time, to be honest) was when Close-Up Magazine named their 2002 (or was it 2003?) demo Bruxism the best demo of the month, or whatever they call it. The Gift was included on the cd that always accompanies the magazine, and it kicked my arse.

So I made sure to download the whole four song demo from their website, and it turned out the rest of it was just as good.

It's pretty fucked up stuff; piles of riffs, blastbeats, wicked grooves and demented vocals executed in an angry, downtuned, chaotic, unpredictable and downright mental manner. I'm not sure how many people are singing (and by "singing" I mean shouting their bollocks off) but it sounds like three or four people strapped down in hospital beds who haven't gotten their horse tranquilizer injections in a while.
There are moments here and there that sound like Dillinger Escape Plan and early Slipknot joining forces to scare the life out of your smelly grandparents once and for all.

Daddy likes. Daddy likes lots.

(mp3) Crang - The gift (highly recommended!)
(mp3) Crang - Protuberance
(mp3) Crang - Organism
(mp3) Crang - Teethgrinder